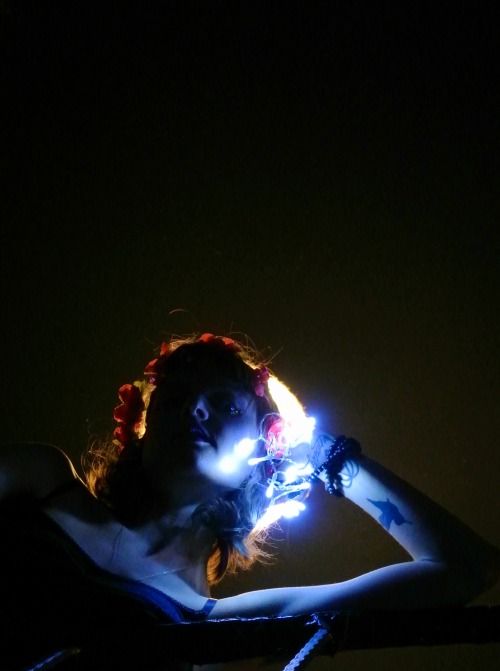 Coming from a closet hippie such as myself, I will tell you that I genuinely favor music with positive messages over druggy EDM that suggests taking pressed pills in clubs because "we might not see tomorrow" or whatever. However, I'm not a dead head or into the touchy feely vibes of a kundalini yoga instructor turned day rave dj– I want legit beats with empowering lyrics and I don't want to compromise, damnit. In comes Lavender Fields, a Californian producer with a penchant for various shades of purple. Her first full length album, Music Beyond Music (out on June 22), sounds as though DJ Shadow and Flying Lotus (circa 1983/Los Angeles) took psychedelics together in Joshua Tree and decided to collaborate on a new age album that was produced by Prince Rama. Which sounds absolutely fantastic and translates into a magical bassy live show with some elements of reggae and a whiff of dream pop. Oh, and the record ends with a Saint Etienne sounding mid nineties synthy jam which somehow fits perfectly and gives me a heart-centered pep in my Doc Martin adorned step. I asked Ms. Lavender Fields a few questions about her music history and intentions for paving her artistic path…
PLEIADESOUNDS What are your biggest musical influences? Normally when I listen to music I can pinpoint exactly who the artists listens to and is greatly inspired by, but yours seems to be inspired by more than just music…
LAVENDER FIELDS I suppose my influences can be traced back to classical music that I've been studying and playing since early childhood. Tchaikovsky is my all time favorite composer, I just think his music contains so much magic and wonder, it has always been able to take me to the most hidden and sacred parts of my soul. I am also greatly influenced by Bob Marley! There is something in his music that touches my soul very deeply and his life and message are one of the most moving ones for me. He passed on 40 years but his songs still bring so much love, positivity, happiness and hope to the people of all nationalities, races and walks of life! It's truly Universal. That inspires me a lot when I write music. I strive to be that force for good for all people and speak to all creation with my music. Amongst my other influences is Flying Lotus. Ever since I discovered his music, I fell in love with producing experimental electronica and creating my own weird lil sounds haha.
PS  In your opinion, in what ideal setting is best to experience your music?
 
LF Hmmm that's a good one! I'd say driving down the Pacific Coast Highway, windows down, heart open, ocean on the left, trees on the right, during the golden hour magic :)
PS You are a classically trained pianist. How did you go from that to bassy-electronic-hippie-princess?
LF I've been playing classical music all my life and then I realized that I wanted to be my own composer! I started making songs first acoustically with just a guitar, piano and voice. Then I got a bit bored of that and wanted to create more innovative sounds and experiment! I got into bass music and drank ayahuasca for the first time, went to some transformational music festival and I guess my music has been evolving together with my consciousness :) This is just a natural evolution of me as a human and a musician. I am constantly evolving and expanding on this journey. Eventually I will come back to classical music. I am starting to transcribe my music now and envision some very epic orchestral arrangements mixed with electronica and world music in the near future!
PS  With what sort of message would you like listeners to walk away after having seen you live?
 
LF Certainly my goal is to spread love through music. I want people to connect with their own soul and get to the very depth of it after listening to my music live. I want people to open their hearts and love one another! I want people to think about nature and our beautiful planet and how much we should cherish that. When I perform live, I give the very best of my soul and my heart, I always try to play a show like its my last one. This is such a passion and labor of love for me and I absolutely enjoy every aspect of music in every way!
PS  What can we expect from you in the future?

LF I definitely see myself forming a band of musicians to play Lavender Fields' music. I also definitely see lots of orchestral arrangements in my music to express the beauty of our planet through music, to be the voice for the voiceless and to express every human emotion through music, to express divinity the way I see it through music. Music is such a beautiful and powerful medium that can move and unite people. I am forever grateful to be born with this gift. I like the idea of being a modern day composer and reflect the state of the world and the concerns of our generation through music. 
**Album Release Party on June 23 at Silverlake Lounge in Los Angeles**
Keep up with Lavender Fields on the Information Superhighway!